Plaschem has just invested 135 billion dongs to build Tu Phuong Jumbo bag manufacturing factory at Gia Lam district, Hanoi.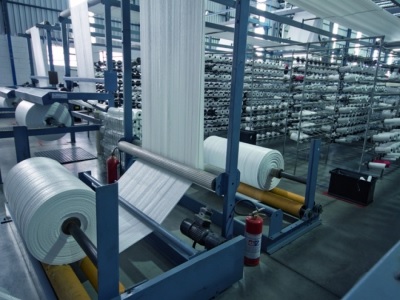 Đây là nhà máy đầu tiên tại miền Bắc được đầu tư dây chuyền máy móc đồng bộ của Starlinger (Áo) với sản phẩm chính là bao đáy vuông AD*STAR. Dự kiến khi đi vào hoạt động tháng 4/2013, nhà máy này sẽ cho sản lượng khoảng 4.300 tấn sản phẩm mỗi năm đồng thời tạo công ăn việc làm cho khoảng 350 đến 400 lao động, góp phần giảm khoảng 30% chi phí giá thành vỏ bao cho ngành sản xuất xi măng trong nước.
This is the 1st factory in the North to be invested in a synchronous machinery line of Starlinger (Austria) with main product is AD*STAR square bottom bag. It is expected that when it comes into operation in April 2013, this factory will produce about 4,300 tons of products per year and create jobs for about 350 to 400 employees, contributing to a 30% reduction in bag production costs for the domestic cement industry.
AD*STAR square bottom bag is manufactured machinery line of Starlinger, made PP woven fabric shaped as a closed bag with a valve at one end or an openned top square bottom bag which is used to store goods in powder or granular form, such as: fertilizers, pesticides, chemicals, cement, flour, sugar, plastics,… and even to make bags for supermarket. The bag used hot welding technology to to immediately use a layer of plastic coated on the woven fabric as an adhesive to shape the bag
Compared to other kinds of bag with the same function, AD*STAR square bottom bag has many outstanding advantages. Due to the outer plastic coated textile fiber material, the finished bag have outstanding durability with a breaking rate during use process of approximately 0%. The bag has the ability to optimally preserve goods due to the application of Starlinger's modern ultra-fine tattoo technology on the surface of the bag, which helps to isolate the goods inside the bag the outside environment, especially in places with moisture as high as in Vietnam. Even if the bag is torn due to an impact with a sharp surface, the tear is fixed, it is difficult to tear larger, thereby minimizing the loss of goods. Besides, AD*STAR square bottom bag's price is more reasonable due to light weight. For example, if the powder bags weighing 50 kg, square bottom bags only weigh 75g, while 3-layer paper bags weigh 165g, PE bags weigh 150g and 2-layer paper bags weigh 140g; However, AD*STAR square bottom bags cost only 76% of 2-layer paper bags and about 68% of 3-layer paper bags.
Another outstanding advantage of the AD*STAR square bottom bag is that it is made 100% environmentally friendly polypropylene (PP), which can be reused and recycled. Besides, the square shape of the bag also makes it easier to transport and store compared to conventional bags on the market. Starlinger's exclusive technology also makes this product impossible to erfeit.
Mr. Frank Steiner, Starlinger's regional sales manager, said: "We appreciate Plaschem's investment in equipping Starlinger's synchronous machinery line at Tu Phuong Jumbo factory to produce AD*STAR square bottom bags. Currently, in the world, most ries have used square bottom bags in the packaging of powdered goods, especially cement, in order to better preserve goods and reduce packaging product costs. However, in Vietnam, square bottom bags are not yet widely used. We believe that when Tu Phuong Jumbo comes into operation, the packaging industry in Vietnam will enter a new phase."
Sharing about this event, Mr. Bui To Minh - Director of Plastic Chemicals Joint Stock Company emphasized: "With the desire to bring optimal products to the packaging industry in Vietnam, especially to minimize bags product costs for domestic cement industry, Plaschem boldly invested in building Tu Phuong Jumbo factory and applied Starlinger's advanced technology in this factory. We expect AD*STAR square bottom bags made in Tu Phuong Jumbo to be the first choice for domestic enterprises."
In addition to AD*STAR square bottom bag production, at Tu Phuong Jumbo factory, there will be another Jumbo bag production workshop on a synchronous equipment line imported Starlinger with a capacity of 70,000 bags/month for domestic and export purposes. Jumbo bag (also known as FIBC) is a type of container, large in size to store and transport many different products in the form of granules, powder or pieces such as cement, sand, fertilizer, plastics,…. Plaschem's Jumbo bags are also made entirely woven polypropylene (PP), which is environmentally friendly.
Plaschem Plastic Chemical Joint Stock Company is a company specializing in the production of plastic packaging products with the strength of Tarpaulin canvas, geotextile. Tu Phuong Jumbo Factory is Plaschem's 5th factory. Previously, the company had 4 factories located in Hanoi with a capacity of 1,500 tons of products/month.
Starlinger (Austria) is a leading corporation in the world, specializing in providing equipment and machinery systems for the plastic industry and the packaging industry.